Atal Amrit Abhiyan Assam
A Step forward in assuring critical care treatment for the people of Assam.
Based on felt needs, goverment of assam has decided to expand . the number of desease group Covered under the Atal Amrit Abhiyan
Atal Amrit Abhiyan assam is one of the Assam Government's best scheme for health assurance. The scheme provides comprehensive coverage and cashless treatment benefits upto Rs. Two Lakhs to every individual from BPL and Low income households across Assam
More than 58000 patients have availed treatment benefit under the schemes till date.
Now, the schemes covered the following new Specialities
New Specialities
a) ICU Packeges
b) Trauma
c) Critical Care paediatrics & paediatrics Surgery
d )Japanese Encephalitis
e) acute encephalitis syndrome ( bone marrow transplantation is also covered under the atal amrit abhiyan)
Exsisting Specialties
1) Heart diseases
2) Cancer
3)Kidney diseases
4) Neurological Disorder
5) Neonatal diseases and
6) Burns
Atal Amrit Yojana assam Hospital list
More than 30000 cancer patients are being treated under the Atal Amrit Abhiyan.
atal amrit yojana hospital in Assam for cancer treatment
1.guwahati medical college cancer hospital
Guwahati medical college
assam medical college
silchar medical college
dr b borooah cancer institute
cachar cancer hospital
north east cancer hospital
health city hospital
Atal Amrit yojana hospital in Mumbai for cancer treatment
tata memorial hospital
apollo hospital number
srcc hospital mumbai
Some hospitals for cancer treatment in Hyderabad under Atal Amrit Yojana
yashoda super speciality hospital malakpet hyderabad
yashoda super speciality hospital somajiguda hyderabad
yashoda super speciality hospital secunderabad hyderabad
sunshine hospital Hyderabad
Some hospitals for cancer treatment in Kolkata under Atal Amrit Yojana
hcg eko cancer centre, kolkata
Some hospitals for cancer treatment in delhi under Atal Amrit Yojana
psri hospital Delhi
park hospital Faridabad Delhi
Salient feature of atal amrit abhiyan assam
Financial benefits: upto Rs. 2 Lakhs per individual annually towards approved procedures and other services on a complete cashless basis which includes transportation within the state for Rs.300/-per visit upto a maximum of Rs. 3,000/-per year and Airfare of maximum Rs.30,000/ per annual for the patient and one attendant and a dally allowance of Rs.1,000/-for a maximum of 10 days for out of state treatment episodes
The scheme covers individual members from BPL and APL families with annual income below Rs. 5 Lakhs
Each individual adult member of elgible family is issued a laminated card with a unique identification number.
Enrolment under the scheme is free for BPL families
Each member of eligible APL families will be required t pay a nominal amount of Rs.100/-for enrolment and renewal
Total 80 number of hospitals (41 within Assam and 39 outside Assam) are empanelled under Vistarita Atal Amrit Abhiyan
Total 265 Medical and Surgical Procedures will be available under the new Specialities apart from the existing 438 Procedures (472 Packages)
Official Website: https://aaas-assam.in/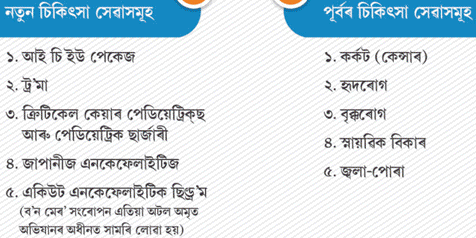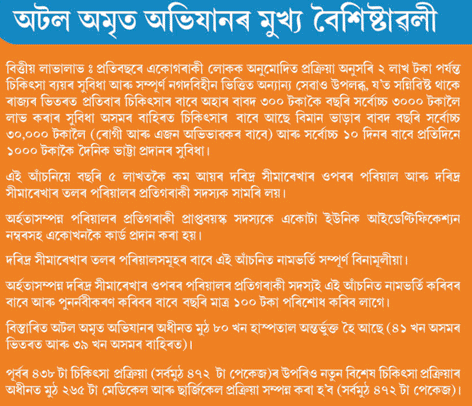 Also Read :