Apun Ghar Home Loan Scheme Assam has been launched by Sarbananda Sonowal to provide home loan for government employees. Applicants can download Apun Ghar Loan Scheme Application Form through official website of government finance.assam.gov.in. The state government has signed a Memorandum with State Bank of India (SBI) to provide home loan to government employees
Assam Apun Ghar Home Loan Scheme for govt employees
Under Apun Ghar Scheme Assam government will provide home loan to employees of the state at 3.5% of subsidized interest rate. The applicants can fill Apun Ghar Loan Scheme Application Form to get a home loan and submit it into SBI bank. Under Apun Ghar Scheme Assam employees will get a loan up to Rs. 15 lac
Apun Ghar A caring initiative by the Assam Govt. especially for Grade – III & IV state Govt. employees.
To purchase or construct a new house or a. repairing of an existing old house or flat
The validity of the scheme is extended up to 31/03/2020. All eligible State Govt. employees who are interested to avail the loan must apply before the expiry of the scheme i.e. 31/03/2020. In view of the launch of the more ambitious scheme Aponar Apon Ghar, any further extension of the scheme- Apon Ghar is not envisaged beyond 31/03/2020.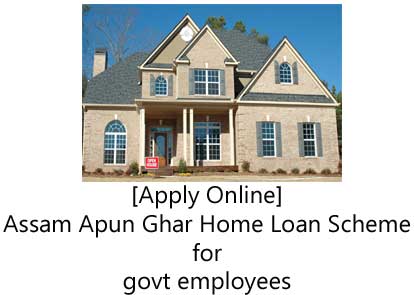 Related:
Eligibility Criteria
Permanente Employees 0f State Govemment of Assam
With at least 5 years of residual service.
Benefit only once in his/her service tenure.
Minimum 1-year service in regular post.
Without Mortgage: Minimum 60 years for all.
With mortgage: Maximum 70 years for employees with pensionable service.
Salary account with SBI, UBI & Langpi Dehangi Rural Blank
Quantum of finance
Maximum loan with subsidy benefit is Rs. 15 lacs for all grade of employees
interest subvention.
With Assam Government Interest Subvention of 3.50%, Present Effective Rate will be 5% for women and 5.05% for men.
Interest subsidy will be available for entire tenor.
mortgage
No mortgage up to Rs. 15.00 lacs.
Loan above Rs. 15.00 lacs after creation of equitable mortgage
Insurance
The employees will be suitably covered by Life Insurance Policy.
Insurance premium on Home Loan will be financed by the Bank by way of an additional term loan (Suraksha Loan).
The house/flat purchased/constructed with the Bank's finance would be insured comprehensively for risk of fire /riots/earthquakes/lightning, floods, etc.
How to Apply Apun Ghar Home Loan Scheme 2019-20
Step1 – Applicants have to visit at official website finance.assam.gov.in.
Step2 – Click on "Schemes & Project" link.
Step3 – Now click on "Apun Ghar" link
Step4 – Click on the "Application Form For Home Loan" link.
Step5 – Apun Ghar Loan Application Form will appear on screen.
Step6 – fill up carefully and submit the Apun Ghar Application Form.
Documents Required for Apun Ghar Scheme Assam for govt employees
Salary Account statement for the last 6 months.
Assets and Liabilities statement in bank format.
Latest salary slip certified by DDO.
Resident proof
PAN Card
Voter ID Card
Under This Scheme Assam only government employees will get a home loan by the government for construction of their houses. Government will provide 5.05% subsidy interest to women employees and 5.0% subsidy interest to men employees under the scheme. The government will provide various benefits and facilities to employees under the scheme
Also, Read